NSTDA in collaboration with the Healthcare Accreditation Institute (Public Organization), or HAI, organized 2P Safety Tech Hackathon Camp on 11-13 January 2023. The camp is a kick-off event for 2P Safety Tech and attended by members of 3P Safety Hospital, previous 2P Safety Tech participants, and hospitals with keen interest to develop and employ technology and innovation to enhance patient and personnel safety (2P Safety).
HAI Director Dr. Piyawan Limpanyalert said that the 2P Safety Tech was initiated in response to the need of hospitals to employ technology to help meet patient and personnel safety requirements.  HAI therefore joined force with the Business Innovation Center of NSTDA in launching 2P Safety Tech in 2018 as a project that brings innovators to help hospitals develop solutions to improve patient and personnel safety following the human factor engineering concept.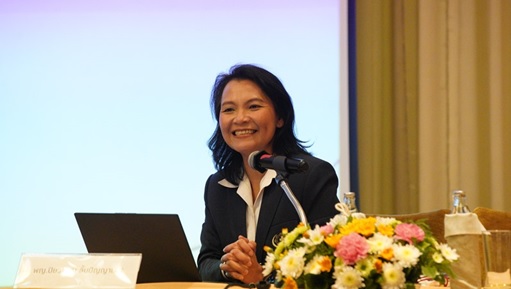 Sixteen proposals submitted by 18 hospitals were selected to take part in this year's 2P Safety Tech. Winning innovations will be chosen and presented at the event celebrating World Patient Safety Day scheduled to take place on 17 September 2023. Applicable solutions developed from 2P Safety Tech will undergo a full innovation process for IP application and exploitation.
NSTDA Vice President for Technology Management Center Dr. Adisorn Tuantranont remarked that 2P Safety Tech is now entering its fifth year. Since its inception, 2P Safety Tech has been participated by 79 hospitals from across the country, resulting in 56 innovative prototypes developed, 33 of which have been put into use, 1 undergoing the technology transfer process, and 1 being expanded to a network of 8 hospitals. The high success rate is attributed to the open innovation concept adopted by the project that provides an ecosystem for collaboration between government agencies, research organizations and industry to create applicable and innovative solutions.
Innovators for this year's 2P Safety Tech are drawn from industry experts as well as NSTDA researchers from NECTEC and Assistive Technology and Medical Devices Center (A-MED), including artificial intelligence (AI) scientists and creators of an indoor localization system called UNAI and A-MED Telehealth Platform. Under the framework of 2P Safety Tech, innovators will work closely with participating hospitals over the course of 6 months to develop solutions based on the submitted proposals.