Water is a critical input for agricultural production. Optimal water input not only promotes plant growth and boosts product quality and yield, but also enables farmers to save production cost by avoiding overwatering. To fulfil this purpose, NECTEC-NSTDA has developed WATER FiT Simple – a crop irrigation controller.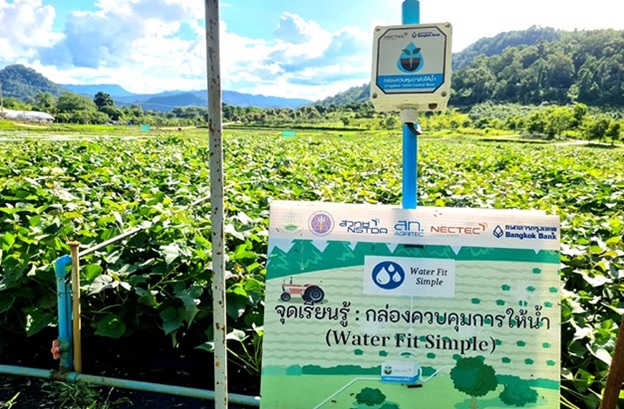 Mr. Natee Moonkaew is an owner of At Samoeng Organic Farm in Chiang Mai province and a member of Samoeng Organic Farmers Group, a new generation of farmers practicing organic agriculture with a mission to produce safe food and create stable jobs for villagers. Samoeng is a farming community situated in the valley. Mountain farming poses some challenges to growers in term of difficult access through roads, limited water resource and no electricity or internet in some areas. Natee, therefore, approached NSTDA to seek an efficient solution for crop irrigation and was introduced to WATER FiT Simple.
WATER FiT Simple is an automatic irrigation control box that provides users the ability to program the controller to establish plant watering schedules. It activates an irrigation system at pre-set time(s) identified by users. The box is powered by one 9-volt battery which can last for a year and is controlled via a mobile phone enabled with Bluetooth network, making the operation independent of electricity and internet connection.  WATER FiT Simple has 4 independent valve connections and can be further integrated with measuring instruments such as hygrometer and rain gauge to enhance its efficiency.

 Natee tested WATER FiT Simple in one of his gardens growing organic herbs and was pleased with the result. Herbs in his garden grew beautifully and gave higher yield and better quality. He did not have to make a daily trip to the garden to water the plants and found that the system also helped minimize human errors. With fewer trips to the garden, Natee can reduce fuel costs and have more time to focus on the marketing side such as finding new customers for Samoeng organic produce. Switching from a daily trip to a weekly trip to the garden ended up saving Natee THB 11,232/year on gas expenses and with more time to spend on sales and marketing, the revenue rose by THB 60,000/year.
WATER FiT Simple has been licensed to K Smart Life & Innovation for manufacturing and commercialization. For product information, installation and consultation, please contact This email address is being protected from spambots. You need JavaScript enabled to view it. or mobile phone number 08 8252 6799.