A new initiative between the European Union and Thailand was launched today to encourage collaboration between leading Thai researchers and European Research Council (ERC) grantees and their teams.
This joint scheme is the first of its kind targeting researchers in Thailand.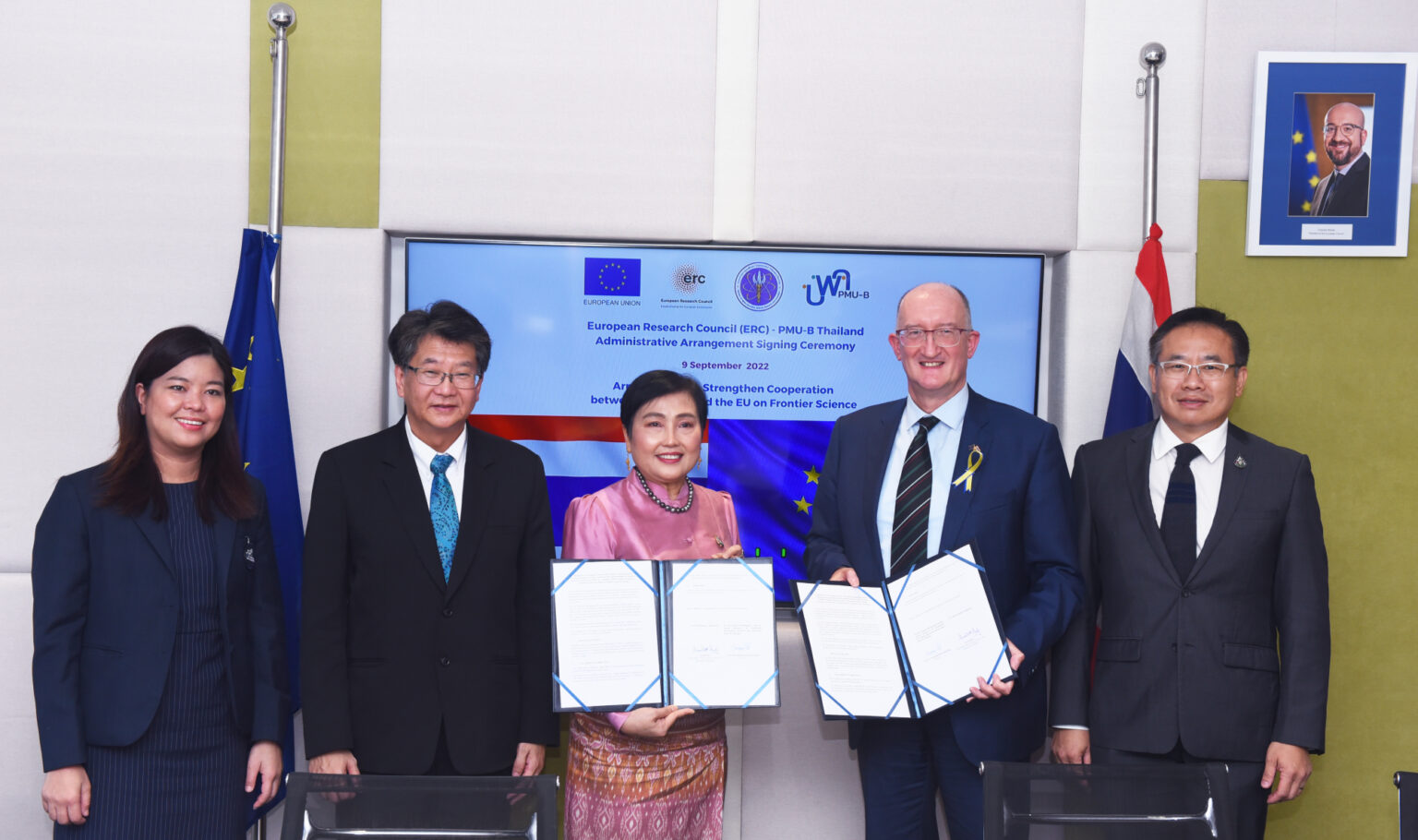 This arrangement will promote the cooperation of ERC with the Thai Programme Management Unit for Human Resources & Institutional Development, Research and Innovation (PMU-B) of the National Higher Education, Science, Research & Innovation Policy Council (NXPO), an agency affiliated to the Ministry of Higher Education, Science, Research and Innovation (MHESI).
H.E. European Union Ambassador to the Kingdom of Thailand, David Daly, and the Director of PMU-B Prof. Dr. Sompong Klaynongsruang signed the new arrangement today at a ceremony in Bangkok.
H.E. Mr. David Daly, Ambassador of the European Union to the Kingdom of Thailand said: "Science knows no boundaries. International scientific cooperation is essential if we are to tackle the most urgent problems facing us today such as global health, climate change and food security.  I am very pleased that the arrangement signed today will promote the exchange of knowledge and nurturing of young talent. This will benefit research in Thailand as well as research globally."
ERC President Prof. Maria Leptin, who attended the ceremony remotely, said: "We welcome this new agreement that is fully in line with the ERC's openness to the world. Excellent science is intrinsically international; encouraging scientific exchange across continents can only benefit us all. This initiative will help ERC grantees to host top talent from Thailand and will allow Thai researcher to gain valuable international experience – it's a win-win."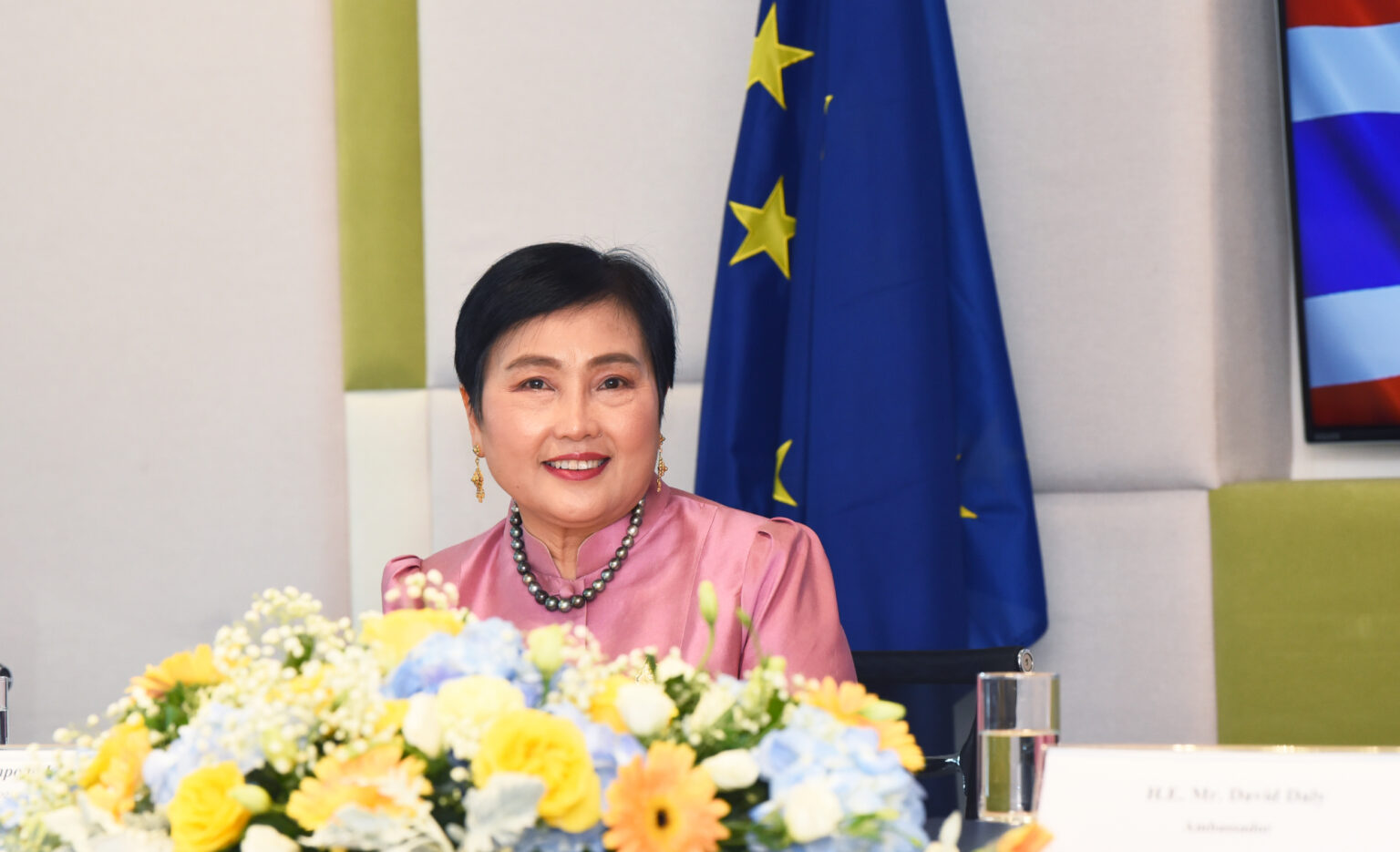 Prof. Dr. Sompong Klaynongsruang stated: "The European Research Council is internationally recognised as one of the most successful frontier science programmes in the world.  We are delighted for the bright young Thai researchers to gain world class experience working alongside the ERC funded research teams. We sincerely appreciate the European Commission's and the ERC's support and are confident that this initiative will lead to a long term impactful collaboration between Thailand and the EU in frontier research."
Also present at the signing ceremony were Ms Maria Cristina Russo, Director for Global Approach and International Cooperation in Research & Innovation, at the European Commission; Assoc. Prof. Pasit Lorterapong, Deputy Permanent Secretary of Thailand's Ministry of Higher Education, Science, Research and Innovation, and Dr. Janekrishna Kanatharana, Executive Vice President, National Science and Technology Development Agency (NSTDA).
The initiative, formally called Administrative Arrangement, is open to top researchers supported by PMU-B. It will facilitate their temporary participation in ERC research groups in similar areas of research or on topics of mutual interest. Such single or multiple research visits can be short or long-term. This arrangement, which is the ERC's seventeenth of this kind, forms part of the ERC's global outreach strategy that aims to make Europe a hub for research talent.
Background
ERC at a glance | ERC: European Research Council (europa.eu)
The European Research Council, set up by the European Union in 2007 and marking its 15th anniversary this year, is the premier European funding organisation for excellent frontier research. It funds creative researchers of any nationality and age, to run projects based across Europe. The ERC offers four core grant schemes: Starting Grants, Consolidator Grants, Advanced Grants and Synergy Grants. With its additional Proof of Concept Grant scheme, the ERC helps grantees to bridge the gap between their pioneering research and early phases of its commercialisation.
To date, the ERC has funded over 11,000 top researchers at various stages of their careers, and over 80,000 postdoctoral fellows, PhD students and other staff working in their research teams. With grants open to talent of any nationality, the ERC aims to attract top researchers from across the world. So far, two Thai nationals have won ERC funding. The ERC also encourages non-European scientists to join ERC-funded teams. Around 17% of team members are non-European nationals.
After the first initiative in 2012 to encourage talent backed by the US National Science Foundation, NSF, to join temporarily ERC teams, other Implementing Arrangements followed with prestigious funding bodies across different continents.
The ERC is led by an independent governing body, the Scientific Council. Since 1 November 2021, Maria Leptin is the President of the ERC. The overall ERC budget from 2021 to 2027 is more than €16 billion, as part of the Horizon Europe programme, under the responsibility of the European Commissioner for Innovation, Research, Culture, Education and Youth, Mariya Gabriel.
What type of grants does the ERC fund?
The ERC Implementing/Administrative Arrangement
ERC International Arrangement funding supports ERC grantees to host international researchers in their research groups. The ERC has signed cooperation arrangements with many research funders throughout the world facilitating international exchange of researchers. Every year ERC Grantees are invited to submit an Expression of Interest to the ERC Executive Agency. Subsequently, international researchers receive information from their national research funder and can make contact with the ERC Grantees based on shared research interests. The ERC and PMU-B will facilitate contacts between their respective scholars who are interested in international collaboration for research and knowledge creation.
Would you like to know more about the ERC grants?
EURAXESS ASEAN will be hosting an information session for ASEAN researchers on the European Research Council grants on 11 October, 3 pm virtually via the Zoom platform.
Email This email address is being protected from spambots. You need JavaScript enabled to view it. for more information.
PMU-B: Program Management Unit for Human Resources & Institutional Development, Research and Innovation (PMU-B) is a funding agency of Thailand, affiliated to the Ministry of Higher Education, Science, Research and Innovation. PMU-B was firstly founded in 2018, as a driving mechanism for human resource and knowledge institution development.