On 2 May 2023, the Office of the Public Sector Development Commission (OPDC) organized a knowledge management forum shining a spotlight on Traffy Fondue, a citizen engagement and empowerment platform developed by NECTEC-NSTDA. The online forum presented the successful implementation of Traffy Fondue in the provincial and local administrations.
OPDC Board Member Mr. Maitri Intusut said in his opening statement that Traffy Fondue represents a path to High Performance Province (HPP) by facilitating public innovation, digital government, open government, public service excellence and public engagement. The platform also advocates for "Faster Cheaper Smarter for Better Life" public services.
Dr. Wasan Pattara-atikom, NSTDA Principal Researcher and Traffy Fondue developer, revealed that the platform is currently serving 10,614 organizations and has had over 300,000 reported cases. Ten provinces that have fully implemented Traffy Fondue in all their provincial agencies are Nakhon Ratchasima, Ubon Ratchathani, Khon Kaen, Phayao, Lamphun, Prachinburi, Phuket, Phetchabun, Samut Prakan and Saraburi, while Chiang Mai and Chachoengsao are in the process of announcing full implementation.
In Bangkok alone, there have been 271,658 cases reported through Traffy Fondue, and 197,848 cases have been resolved. Issues most frequently reported include road conditions, footpath, flood, safety, lighting and cleanliness.
Data showed that 91% of Bangkokians responding to survey found the platform to be user friendly, whereas 84% of public officers found it to be useful, offering swift process in reporting and resolving cases and providing them with data and information for management and budget planning.
Lamphun Governor Mr. Suntithorn Yimlamai said that Traffy Fondue is used in all 104 offices under the Lamphun provincial administration. Since 1 December 2022, a total of 481 cases have been filed, and 341 cases, or 71%, have been resolved. The province is planning to the coverage to other services such as senior welfare program registration.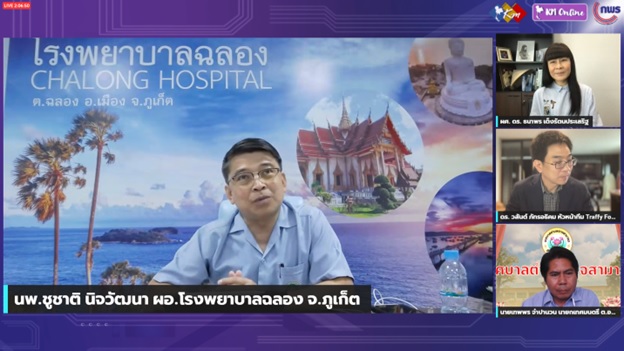 Dr. Chuchart Nijwattana, Chalong Hospital Director in Phuket, revealed that the system has been used in 119 provincial offices following the governor's policy. The province is also working with NECTEC team to add some new features such as English language to serve tourists. The platform has also been used for reporting traffic violations such as riding without a helmet.
Mr. Thepporn Champanuan, At Samat Sub-district Governor in Roi Et, said that his sub-district was selected by Roi Et to pilot the implementation of Traffy Fondue. The platform replaced the traditional reporting system which requires citizens to file a report in person. Traffy Fondue makes it more convenient for citizens to report problems and the city to resolve them swiftly with systematic records. A total of 274 cases have been reported, with 256 cases resolved. He hoped to see Traffy Fondue used throughout Thailand to enhance the efficiency of public services.