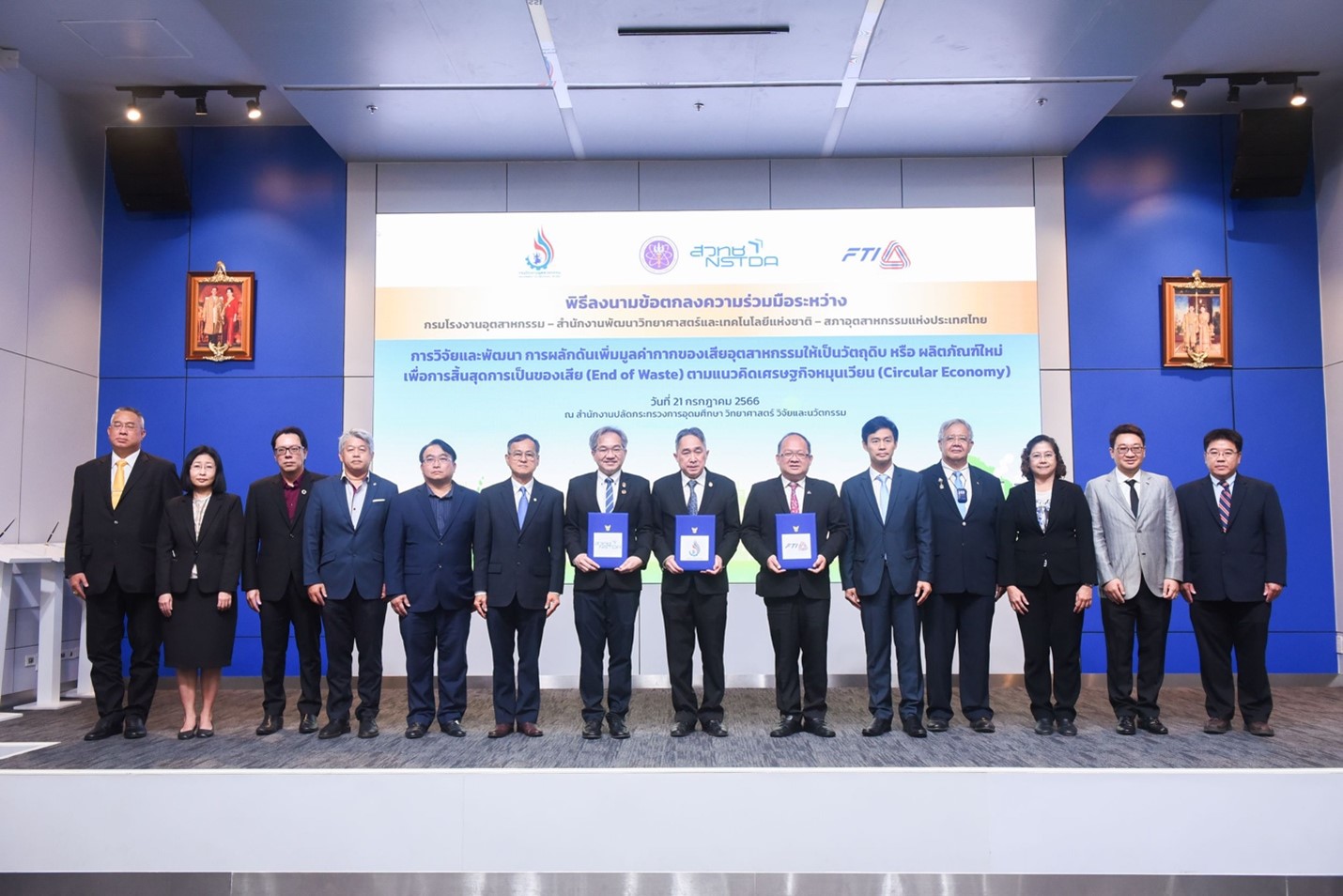 On July 21, 2023, NSTDA, the Department of Industrial Works (DIW), and the Federation of Thai Industries (FTI) signed a memorandum of understanding (MOU) to promote the end-of-waste concept. The main objective of this collaboration is to convert industrial waste into raw materials or new products while ensuring compliance to safety regulations.
NSTDA President Prof. Dr. Sukit Limpijumnong stated that NSTDA researchers have long been engaged in working with both public and private enterprises on industrial and agricultural waste utilization. These efforts have resulted in numerous successful research outcomes and the development of several waste-based products. NSTDA research also encompasses the environmental impact assessment to ensure that new products and raw materials derived from waste, as well as the processing technologies, have no adverse effects on the environment. This tripartite collaboration will accelerate NSTDA's research endeavors to assist the manufacturing industry in achieving circularity, which is one of three pillars of Bio-Circular-Green Economy (BCG) model.
DIW Director General Dr. Jullapong Thaveesri emphasized DIW's commitment to enhancing the competitiveness of Thai industries while preserving the environment and the community. This end-of-waste initiative not only aims to reduce waste and its environmental impact but also contributes to circularity and the realization of a low-carbon society. The collaboration will focus on recovering biomaterials and basic minerals from waste and strengthening communities and income distribution.
FTI Chairman Mr. Kriengkrai Thiennukul said that FTI represents a large community of members involved in waste generation, transportation, and processing. Recognizing the potential of waste and the significance of circularity, FTI has established the Circular Material Hub (CMH) as a platform to promote industrial symbiosis, utilizing waste from one industry as raw materials for another. In partnership with Thailand Science Research and Innovation (TSRI), FTI has also launched the Innovation One Fund, a funding program dedicated to BCG and climate change initiatives, including end-of-waste actions. 
This tripartite partnership aims to advance research and innovation in waste utilization, establish standards and regulatory frameworks for end-of-waste practices, and develop a platform to encourage collaboration among stakeholders along the value chain on waste utilization. Recently, NSTDA, DIW, and FTI jointly hosted the End of Waste Thailand seminar in June of this year and are now planning to launch three pilot projects: 1) recovering sodium silicate from rice husk ash, 2) transforming tuna fish bones into bone ash, and 3) manufacturing gypsum boards from synthetic gypsum.